Water Policy
The Alabama Rivers Alliance advocates a comprehensive water management plan to protect our state's natural resources.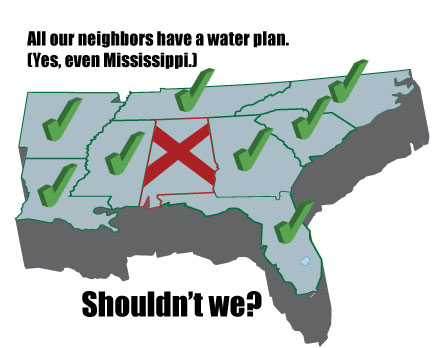 Alabama is the only state among its neighbors without a comprehensive water management plan. The Alabama Rivers Alliance has long advocated the development of such a plan as a necessary step toward protecting our natural resources. This year, that work has begun to gain traction.
Join us at one of the symposia on water management that we are hosting across the state to learn more about water management policy means for Alabama.
In April of 2012, Governor Bentley issued a letter directing the Alabama Water Agencies Working Group (AWAWG) to develop recommendations for a state water plan. Following this directive, the Alabama Rivers Alliance hosted seven symposia across Alabama at which stakeholders met with members of the AWAWG to ask questions and give feedback. In December of 2013, the AWAWG delivered their recommendations to Governor Bentley.
On August 1, 2014 the governor issued a letter directing the AWAWG to reconvene and continue moving forward with the process of developing water policy. He instructed them to further engage stakeholders, prioritize data assessment, and develop the focus panels.
You, as a citizen and river advocate, are an important stakeholder in this effort, and it is crucial that your voice is heard in this process. We encourage you to stay involved. Click here to see ADEM Director LeFleur's
list of ways
in which you can provide your input, and stay tuned for emails and updates from the Alabama Rivers Alliance.
The Alabama Rivers Alliance staff are traveling around the state speaking to citizens about the need for a comprehensive state water policy and conducting symposia which all Alabama citizens, stakeholders, and elected officials, who want their voices heard in the discussion about the development of a comprehensive water management plan for our state, should attend. Now that the governor has taken leadership and put this process into motion, we, as concerned citizens, have a responsibility to play our part. We must insist on water for all, not water for a select few! We must also insist on the protection of flows in our rivers to ensure that "clean water for all" continues to be possible for many generations to come.
Click below for information from our water policy symposia that we have held across the state:
Summer of 2012
Throughout August, momentum towards comprehensive water policy and management plan has continued to move forward. There have been three public meetings held around the state emphasizing the need for everyone's input to ensure Governor Bentley's directive to create a December 2013 water management plan:
August 15th: Auburn Water Resources Center Irrigation Summit was attended by over 200 participants, including Alabama Rivers Alliance Program Director Mitch Reid. This meeting stressed the need for water management programs for farmers and irrigation. The leaders of this effort recognize the need for a comprehensive water management plan and are working in conjunction with the Alabama Water Agencies Working Group.
August 23rd: Joint Legislative Committee on Water Policy and Management Meeting discussed the role of the committee in the upcoming legislative session. This meeting drew over 65 people and was held in Montgomery. Mitch Reid, Alabama Rivers Alliance program director, presented on our efforts to examine potential legislation that supports the governor's directive. Other presentations highlighted the uncertainty of our current water laws and the necessity for a comprehensive water management plan that balances competing water interests.
The

Alabama

Water

Agencies

Working

Group

has released a report,

Water

Management Issues in

Alabama

, and they need feedback. Specific comments on the

Water

Management Issues in

Alabama

document can be provided by letter, email, or in person to any member of the

Alabama

Water

Agencies

Working

Group

(AWAWG). AWAWG member

agencies

are available to meet with you or your

group

in person to review the report and receive any input. If you are a member of a

group

, developing a consensus within your

group

will maximize the efficiency and impact of your input.